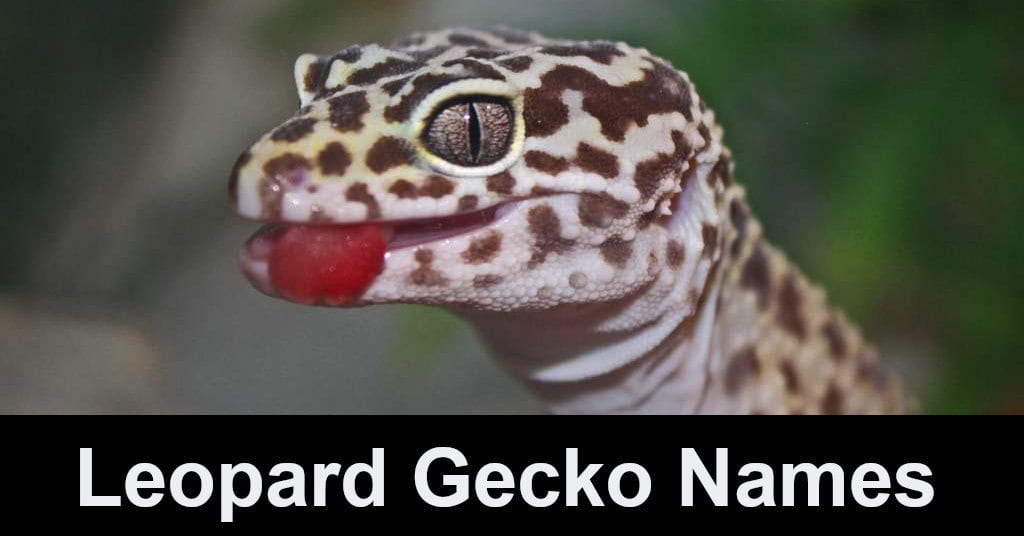 Coming up with the best names for leopard geckos is one of the funnest things to do.
You can go for something cute, cool, male or female, boy or girl, unisex or just plain badass. Your gecko will live for up to 20 years so make sure you give them an awesome name that really suits them.
Take your time naming your gecko, don't rush it. Maybe even get to know them a bit first. Then you can give them a name that totally fits their personality.
So here is my big list of good names for leopard geckos to get you inspired.
Enjoy. 🦎
P.S. Got any suggestions to add to the list? Just add them in the comments at the bottom – thanks 🙂
Unisex Leopard Gecko Names
These names are good if you want a gender neutral name for your gecko:-
Arcturus
Bear
Beer
Booger
Boozer
Caper
Charlie
Chatty
Checkers
Darth
Deuce
Flow
Geico
Gizmo
Hatch
Happy
Kiwi
Lucky
Masher
Mint
Nova
Omelet
Perch
Piper
Rouge
Rumpelstiltskin
Sammy
Sandy
Shrek
Simba
Skittles
Slimy
Smiley
Spike
Spongebob
Sprite
Steak
Stitch
Stinky
Sugar
Virgo
Yanny
Yoda
Ziggy
Male/Boy Leopard Gecko Names
These are (mostly) just for the boy geckos:-
Atticus
Caspian
Diego
Elliott
Griffin
Gus
Hank
Monty
Mufasa
Peter
Prince
Rufus
Female/Girl Leopard Gecko Names
These are (mostly) just for the girl geckos:-
Athena
Cleo
Daisy
Faith
Gigi
Gracie
Jasmine
Liz
Molly
Penelope
Ruby
Saffron
Stella
Suzie
Willow
Zarrabi
Cute Leopard Gecko Names
If your gecko is super cute, as many are, check out these adorable cute gecko names that should do the trick:-
Apricot
Bubbles
Cinnamon
Daisy
Dotty
Fluffy
Freckles
Gucci
Jub-Jub
Lilo
Loulou
Luna
Mochi
Nibbles
Peanut
Peach
Pebbles
Pickles
Pippin
Pistachio
Skittles
Sprinkles
Trixie
Walnut
BadAss Gecko Names
These badass names should add some extra edge to your gecko's personality:-
Blaze
Thunder
Spike
Riptide
Shadow
Venom
Viper
Draco
Gargoyle
Stryker
Razor
Cobalt
Jinx
Rogue
Titan
Sabotage
Havoc
Talon
Mystique
Onyx
Lazy Leopard Geckos Names
Is your gecko a bit of a lazy bones? Here's some good names for the gecko that likes to take life a bit slower. 🙂
Casper
Crash
Dopey
Downer
Dozy
Drowsy
Lazy
Naps
Pokey
Shadow
Slacker
Sleepy
Slug
Snooze
Stoner
Turtle
Funny Leopard Gecko Names
These names just make me laugh every time I read them. Geckos have a great smiley face, some are funnier than others, some just need to have a funny name!
Alphagecko
Banana Peel
Captain Scales
Disco Lizard
Ecko the Gecko
Funky Gecko
Geckzilla
Houdini
Inspector Sticky
Jiggly Gecko
Karmageddon
Lizard of Oz
Curious Leopard Geckos Names
Curious George
Dart
Digger
Dora
Druid
Fetch
Gunner
Hunter
Hyper
Nightrider
Ninja
Pep
Romer
Shoe Lace
Sly
Sneaky
Sparky
Tangy
Yoyo
Two Leopard Geckos Housed Together Names
Alosi & Claude
Bebop & Rocksteady
Bonnie & Clyde
Chips & Dip
East & West
Lewis & Clark
Love & Hate
North & South
Peaches & Cream
Peanut Butter & Jelly
Salt & Pepper
Sebastian & Ciel
Soup & Salad
Starsky & Hutch
Tupac & Biggy
Ying & Yang
Timid Leopard Gecko Names
Bambi
Bluebell
Caffeine
Cola
Dart
Hot Sauce
Jumpy
Lightning
Manic
Meadow
Mousey
Rabbit
Rosie
Speedy
Spook
Sprint
Tweak
Shorted or Missing Limbs Leopard Gecko Names
Captain Hook
Faith
Gimp
Gimpy
Hope
Stubby
Stubs
Large Leopard Geckos Names
Argus
Big Chungus
Bigs
Cyclops
Enzo
Giant
God
Godzilla
Grant
Jaws
Jupiter
Loki
Monster
Thor
Titan
Titus
Zeus
Smaller Leopard Geckos Names
Adan
Brutus
Button
Feather
Gizmo
Little Jerry
Micro
Millipede
Mini Me
Minnie
Nacho
Nemo
Pixie
Smalls
Tiny
White/Albino Leopard Gecko Names
Blizzard
Cloud
Dove
Frostie
Ghost
Ice Cube
Iluliaq
Luna
Popcorn
Salty
Snow
Snow White
Snowball
Spearmint
Subzero
Tundra
Winter
Yeti
Tangerine/Yellow Leopard Geckos Names
Banana
Blaze
Blondie
Corn
Ember
Flame
Garfield
Gingersnap
Lemon
Lunar
Mango
Mustard
Naranjito
Nova
Orange
Pac Man
Phoenix
Popcorn
Pumpkin
Sandy
Sunflower
Sunny
Sunset
Tennis Ball
Tango
Spotted Leopard Geckos Names
Checkers
Dots
Plaid
Speckles
Spot
Spotty
Sprinkle
Which Name Did You Choose for Your Gecko?
Let us know which name you chose for your leo and why you chose it – add a comment below.
Or if you have any suggestions to add to the list we'd love to hear those too.
You can also check out our lists of: mythical gecko names, nature names for geckos and color pattern gecko names.