About LeopardGeckoLand.com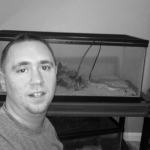 My name is Garen Arnold, and one of my hobbies is leopard geckos (along with bearded dragons).  I currently have four leopard geckos (Sly, Speedy, Sugar, and Shrek).  They are low maintenance, beautiful, and can make an excellent pet for anyone seeking an exotic pet.  There are tons of morphs you can get.  I got my first leopard gecko in December of 2011 and instantly became fascinated with these amazing creatures.
I have always been kind of a night owl so having a nocturnal buddy is right up my alley.  While true, leopard geckos don't require affection that dogs and cats do; they do require some attention.
Just about anyone on any kind of budget can afford to take care of a leopard gecko!
Leopard Gecko Videos